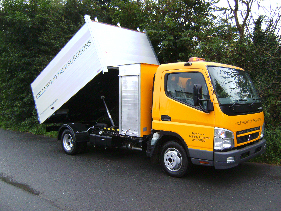 With many Tipper operations payload critical, our design philosophy in building in strength by the mix of exquisite design and the use of innovative materials allows us to create bodies that not only give our clients the payloads they seek as we as a robustness that gives years of trouble free service.
We can offer both aluminium and hi tensile steel body construction utilising either front end or under floor tip gear. Floor thickness's will vary depending on the operation and all conceivable options are available whether that be perhaps a dump through taillift to the rear, a alloy storage cabinet behind the cab, a caged top or something simple like integrated beacons or work lights to the side or rear, nothing is too much trouble.
This has been achieved over many years careful design and the introduction of new technologies using front end or underfloor tipping gear, we can adjust the body design to suit.
This is just a sample of what we have and continue to build.