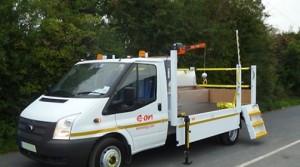 Building a truck body may indeed to the uninitiated, appear to be a purely engineering led project however with the increase in Operative safety, our designs have been carefully honed and altered to ensure that every body we build has at its very heart, driver and operative safety in mind, whether they be next to or on the vehicle body itself.
We have worked tirelessly with end users in developing new step arrangements for example that allow access and egress of the vehicle body safely and quickly, ensuring that suitable hand and foot contact is available during the operation and then once on the body, to ensure that our own design safety rail arrangement now required for working at height, is both strong and easy to use within the day to day operation.
In addition to body steps and Working at Height safety systems, P.D.Stevens have extensive experience in the development of other driver safety devices, whether these be in the areas of body storage, design of security systems, integrated lashing eyes and extra electrical lighting systems that ensure your operatives are at all times, come rain or shine, given the best working environment when working out on site.
Working at Height Systems
Ramps
3 Point Contact Systems
This  just a sample of what we have and continue to build.